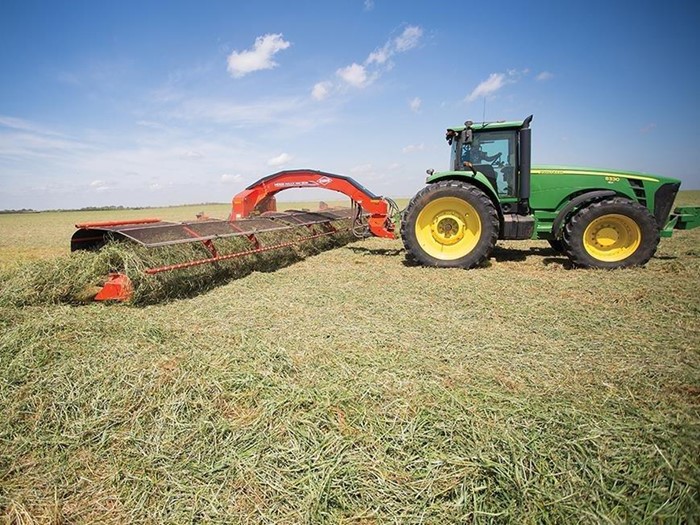 ---
With other award winners including John Deere, Case IH, CLAAS, Toro, and AGCO, the American Society of Agricultural and Biological Engineers (ASABE) recently awarded leading agriculture equipment manufacturer KUHN with two of its AE50 awards. The awards honor the year's most innovative designs in engineering products aimed at the food and agricultural industries. KUHN's AE50 awards are for its IntelliMix advanced mixer control system and MM 1300 Merge Maxx hay merger.
The Winner Is . . .
Broadly, KUHN manufactures plows, tillage tools, seeders, spreaders, shredders, mowers, mower conditioners, rakes, tedders, balers, wrappers, bale processors, mixers, feeders, manure spreaders, and landscaping tools. The IntelliMix system, billed as incorporating the first CVT (continuously variable transmission) for a TMR (total mixed ration) mixer, is an ISOBUS-compatible system that "automatically transitions between multiple auger-speed set points throughout the mixing and feeding cycles."
---
In addition to providing operators complete control over auger speeds without being limited to a set of predetermined gear ratios, the IntelliMix system enables operators to reduce tractor input speed while independently maintaining auger speed. This translates into "significant fuel savings," according to KUHN.
The MM 1300 hay merger, meanwhile, covers a 42-foot (13-meter) pickup working width in one path and is the industry's largest continuous-pickup merger, KUHN says. Along with the related MM 1100 model, the MM 1300 offers such features as a floating wing guard, crop netting, and ISOBUS compatibility. Those features help create "clean, consistent windrows providing maximum efficiency for the harvester while maintaining high feed value and low ash content, setting it apart from other models," KUHN says.
Inside The ASABE
The ASABE will feature KUHN's products and other award winners in a special January/February 2019 issue of its Resource Engineering & Technology for a Sustainable World publication. Founded in 1907 and based in St. Joseph, Michigan, the ASABE includes members from 100-plus countries and is dedicated to advancing engineering related to agricultural, food, and biological systems.
Source: Kuhn North America